Join us sea kayaking The_Small_Isles for 5 memorable days to explore one of Scotland's great gems of the Inner Hebrides.
You will have an unforgettable  sea kayaking experience with us.  The_Small_Isles consist of Muck and Eigg being the smaller two with Rum as the largest.  Then further North and West we have Canna and Sanday, bridging across to each other at low tide by a causeway. For a sense of remoteness and exposure an expedition sea kayaking The Small Isles is a must.  The waters of the Inner Hebrides are full of wildlife.  Regular sightings of Minke Whale, porpoise, common seals, sea eagles, otters and numerous other sea birds are waiting to be explored by you.
Sea kayaking

The_Small_Isles
With favourable weather an amazing open crossing of 12km awaits. Views of Muck, Eigg, Rum and the Isle of Sky are all around and a spectacular backdrop of mountains watches over you from every direction.  For 2 to 3 hours you will be lost transfixed on the scenery and the magnificent wildlife you will glimpse.  Manx Shearwaters skim across the top of the sea and porpoises fill these waters.  In Gaelic they were know as 'Sea Pigs' and the Ilse of Muck translates to Isle of Pigs in Gaelic.  Muck could be a great place to stretch the legs after a crossing or a wonderful place to visit for rocky gulleys and grey seals.  Landing might be at Galmisdale on Eigg where the ferry also lands. Heading North to the remote end of the island and venturing around the top  leads us to the beach of singing sands.  Camas Sgiotaig not only offers an unrivalled rest stop but will sing you to sleep.  Leaving, there are options to cross over to Rum or continue round Eigg and back down to Muck.
Heading North again we expect to encounter Cetaceans from the deep, they gather here feeding. The phytoplankton and zooplankton bloom in the nutrient rich waters which in turn draws in the plankton feeding cephalopods and fish.  Which is why we have 11 species of Cetaceans annually sighted  and 22 species in total since 1980. The regular visitors include, Minke whale, Pilot whale, Risso's Dolphin, White beaked Dolphin, White sided Dolphin, Short beaked Dolphin, Bottlenose Dolphin, Harbour Porpoise and occasional Fin Whale, Sperm Whale.
Rum, Canna and Sanday
Rum rightly deserves to be a National Nature Reserve.  Your time paddling and exploring its coastline will leave you enthralled with its beauty.  The West coast has dramatic cliffs and plenty of sea birds.  There are a few hidden inlets and bothys to visit and the beaches on the north coast offer the best views around.  Paddling along this coastline will give you plenty to explore with rocky inlets, caves and wildlife at every turn. Landing at Kinloch will provide a a chance to top up provisions and see the wonderful castle.  There is a good chance you will also get up close with the Deer.  Other wildlife you can hope to encounter on the island are the White tailed Sea eagles.  In 1975 they were reintroduced and brought back from extinction and now there is a healthy population in the skies and cliffs around.  Often from the water you get a great view.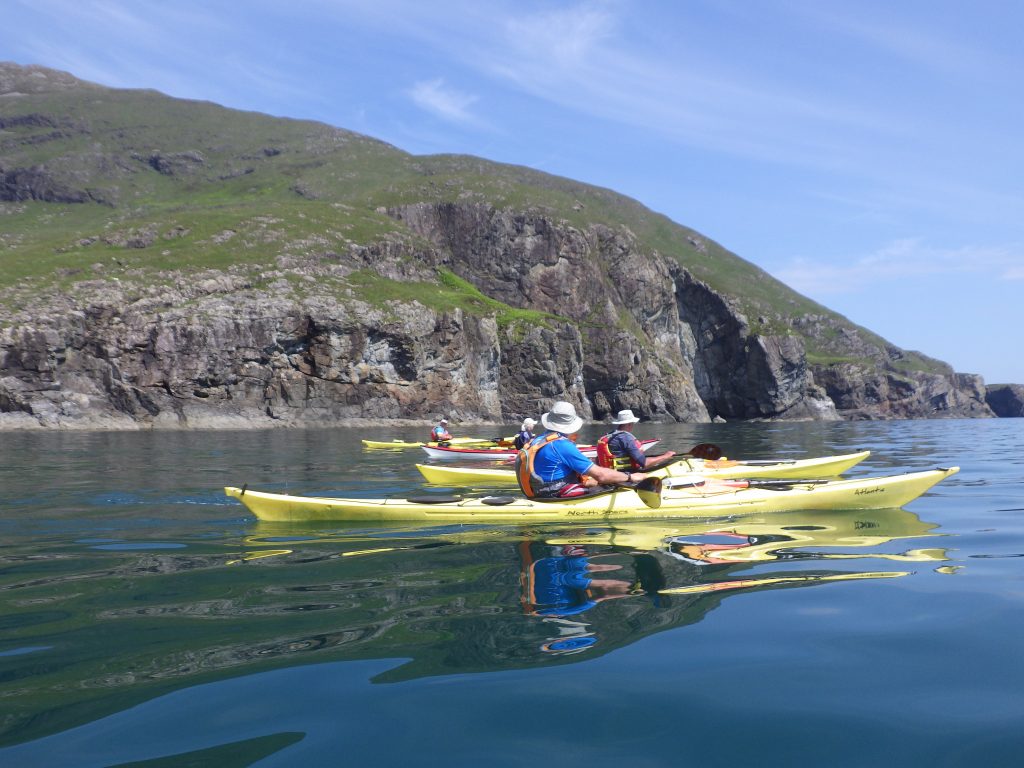 If the weather allows we have a short but incredible crossing.  Or if we need to,  a ferry can transport us to Canna and Sanday which are the furthest North and West of the Small Isles.  Once you have paddled here you have a true understanding of wilderness.  Particularly on the west and north coast where the views are out to the Outer Hebrides.  On paddling these wild waters you will have for company much wildlife and plenty of sea birds.
What to expect from a Sea Kayaking Trip to explore The_Small_Isles?
Apart from the stunningly beautiful coastline and aqua marine seas, each expedition will be tailored to the group.  The group size will be intimate and friendly with a maximum 1:5 ratio. We will have met and planned an option for day 1 before Monday morning.  Following this every morning we will  talk through the days weather and conditions.  From here we will together plan the next leg of your expedition.
During these 5 days Sea kayaking The small Isles you will be self sufficient carrying your own kit for wild camping.  Likewise a good supply of food will need to be carried.  However, each island has a small shop where provisions may be purchased.  This can be a good way to support these communities.  After each days paddle we will find a suitable wild place to camp.  After pitching our tents we will cook our meals and watch the sunset whilst sharing tales and laughter together.  Working on a leave no trace policy, all manmade rubbish items will be carried back off the islands with us.  This beauty of being self sufficient means we can adapt our plans to meet your desires.  Plus the added bonus of really escaping and getting that reboot by being totally immersed  in the wilderness.
.
The good news is there are another 4 days on the water with new found friends. Plus plenty of fantastic options to explore The Small Isles whilst on expedition with us.  After getting your breakfast, taking down your tent and packing the Sea Kayaks the next adventure will begin.  Another amazing day awaits and who knows where will pitch camp next?
Location for The_Small_Isles
For this expedition we will meet up on the Sunday evening for a chat and perhaps a bite to eat.  Over food we can check the weather and come up with a plan for the Monday morning and the week ahead.  The options are clearly dependant on the sea conditions.  With favourable seas we can have a lovely open crossing from Arisaig to Muck or Eigg to start this adventure.  Alternatively if weather is bad or going to close in we can make use of the ferry service out of Mallaig.  From here we might head out to Canna any of the Small Isles whatever suits the group.
There are plenty of options for accommodation available in the area to meet all requirements and budgets.  Mallaig and Arisaig have a hotel and a couple of hostels.  The stretch of coast between the two has plenty of campsites.  If you need any pointers then let us know or if you wish to join us we will gladly let you know where we will be.
Come and Join us at discovery kayaking for endless discoveries on an expedition Sea Kayaking The_Small_Isles. Or please do look at our other courses and trips.  Whatever you choose keep enjoying your sea kayaking and discovery kayaking looks forward to seeing you afloat soon.
Join us
Date July Mon 18 - Fri 22 (2022)

Location The Inner Hebrides
Categories
Cost: £510.00
---
BOOK NOW:
---